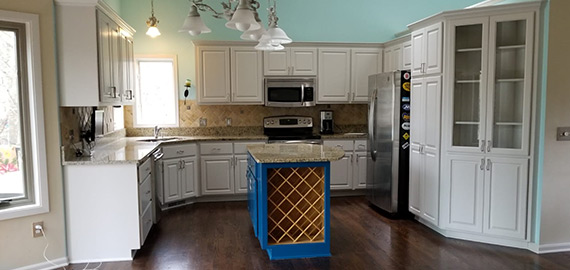 Cabinet Painting & Refinishing Can Make Your Kitchen Beautiful Again!
Painting or Refinishing your Cabinets Offers a Complete Transformation to Your Kitchen.
Do you like the idea of a refreshed and updated kitchen, but maybe are held back by the price of a total kitchen remodel? Have you considered painting your cabinets? Painting your kitchen cabinets is a cost effective alternative to replacing or even refacing them. The primers, sealers, and topcoats we use make painting your cabinets a great value.
Kitchen Cabinet Painting is the Perfect Way To Update Your Home!
Cabinet painting and refinishing is a hugely popular answer to the question of how to breathe new life into your kitchen in a way that makes a drastic, positive difference, but also is budget-friendly.
We can help you achieve just the style you are looking for in a custom, creative way. Whether you would like to glaze your cabinetry, chic color, or just re painting the same color .We take the expertise and attention to detail we want to make you fall in love with you kitchen again.  We will paint your kitchen cabinets to compliment the style of your existing kitchen or create that brand new look you've been wanting. Is your kitchen outdated? Refinishing kitchen cabinets is the best way to revive good, solid cabinets while updating the look and feel of your kitchen. Get that "designer look" at a price you can afford. Call us. It's the perfect opportunity for you to enhance the heart of your home with Delta Painting.
We can help paint you cabinetry. Here are just a few cabinet painting services we offer.
Cabinets painting
New Cabinets (paint or stain grade)
Change painted Existing Painted Cabinets-changing color
Convert Oak or Other Hardwood Cabinets to a Quality Painted Finish
Apply a Distressed Look, Crackle, Old World or other Unique Glazing to your Cabinets
Removal of Hardware and Reinstall
Sprayed or Hand Brushed Options
Solid Colors or Light Antique Finishes Staining & Lacquering of Existing Wood Cabinets
Refinish Kitchen Cabinets
Stripping & Refinishing or Glazing
Entertainment Systems (paintor stain )
Custom Antique Stains & Distress Finishes
Wood Handrails & Stair Spindles
Entry Doors & Thresholds
Quality spraying of cabinetry doors and drawers (on or off-site)
Old-Fashioned hand brushed finish if desired
Stripping of existing stained surfaces
Solid paint colors or custom mixed stains.